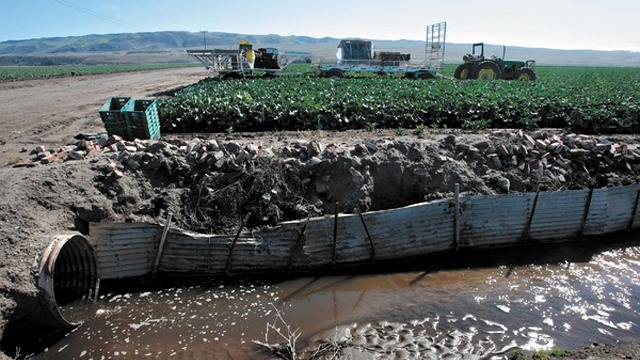 Irrigated agriculture is the nation's number one source of pollution to rivers, streams, and groundwater supplies. Despite this fact, the agricultural industry is exempt from the Federal Clean Water Act. On California's Central Coast, agricultural pollution is regulated by the Central Coast Regional Water Quality Control Board. In its recently adopted permit regulating pollution from irrigated agriculture, known as "Ag Order 4.0," the Central Coast Regional Board sided with the agricultural industry, deciding that while many current farming operations pass egregious pollution burdens to the rest of us, it's up to industry to say if and when pollution will stop.
The Central Coast is home to a thriving agricultural industry. There are approximately 540,000 acres of irrigated land and approximately 3,000 agricultural operations in the region, including some of the most intensive farming on earth; the Salinas River Valley is known as the "salad bowl of the world." Many farmers are committed to protecting water quality. However, based on the Board's own findings, on average farms apply an order of magnitude (10X) more fertilizer than is safe to protect groundwater supplies. Though many farmers and farming organizations are making great progress developing and implementing sustainable farming practices, a subset of irresponsible polluters prefer highly extractive, maximum output, chemically intensive farming, and they resist progress on the Central Coast.
Of course, we all share the water that flows off of and through agriculture operations. Notably, the Central Coast is 90 percent dependent on groundwater. Stark examples of agriculture's impacts on water quality include that 160 miles of the Salinas River are listed as impaired, and testing of over 2,600 on-farm domestic wells in the region revealed that 28 percent exceed the drinking water standard for nitrate. In areas of the Salinas Valley the rate is well over 50 percent, with much greater concentrations of nitrate contamination. Meanwhile, researchers continue to document the harmful effects of nutrient runoff for the southern sea otter, who live exclusively on the Central Coast.
Ag Order 4.0's predecessor permits were challenged by public interest groups including California Coastkeeper Alliance (CCKA), Santa Barbara Channelkeeper, and Monterey Coastkeeper, and found to be illegal by California courts as they inadequately regulated irrigated agriculture. The statistics above are examples of how the Water Boards have failed to address the problem of agricultural pollution. Ag Order 4.0 represents a long process by the Central Coast Regional Board, during which the many tools available to the Board were considered. Waterkeepers, along with a broad group of environmental and environmental justice groups, engaged and supported the process for over three years, but ultimately, we were disappointed once again. Critical deficiencies in prior permits included a failure to identify a distinct timeline and enforceable deadlines for farmers to comply with water quality limits that protect state waters. This critical deficiency was not corrected in the adopted permit.
Ultimately, the duty of the Regional Board is to protect and restore water quality, not to protect agricultural interests. Though Ag Order 4.0 contains some provisions designed to protect waterways, they are undermined by loopholes and alternative compliance pathways designed by the agricultural industry to protect polluting farmers from accountability. The Regional Board has taken the position that the Order will be a failure if any grower, even the most irresponsible, is left behind. Of course, this leaves the status quo intact for many years to come.
CCKA, Santa Barbara Channelkeeper, and Monterey Coastkeeper participated actively in the years-long development of Ag Order 4.0, with legal support from Stanford and Golden Gate University legal clinics. Our most recent written comments are available online courtesy of Santa Barbara Channelkeeper (General comments submitted with a group of 15 public interest groups here, and a detailed legal-technical assessment from Keepers here) and you can read more about CCKA's Principles to Protect Californians and Our Waterways from Unsustainable Agriculture here.

Staff Attorney Tyler Sullivan supports CCKA's legal advocacy with a focus on the Monterey Region.